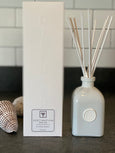 Citrus Basil Diffuser
$56.00 USD
Destination Haus made citrus basil diffuser home fragrance collection, we blended high-quality aromatics of citrus and basil. The fine fragrance oil is poured by hand in small batches, natural white rattan reeds diffuse just the right amount of fragrance.

Material: Soy wax, essential oil + cotton
Size: 8 oz. Burn time 40 hr
Burning Instructions: When burning the candle for the first time, let it burn until the whole surface is liquid. This will prevent a tunnel from forming. Trim the wick if you experience soot. Burn only under supervision and keep out of draft and reach of children.